Patios and Outdoor Living
We approach patios several different ways depending where you live in Austin. If you live on the green belt you may want something more natural, or if you live in a neighborhood and space is tight a courtyard may be the look you want. We have skilled masons that can do an array of all kinds of patios.
Here are some samples of our work. (click on any picture to enlarge)
This is a full patio extension complete with a wide staircase, deep footers on the corners for possible future pergola. We used Oklahoma Copper Mountain flagstone which is now unavailable. This is only one of a few clients in Austin that was blessed to have this vein of rock in their backyard.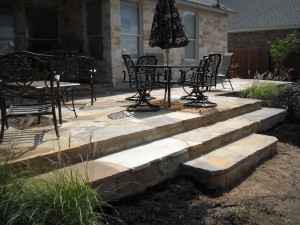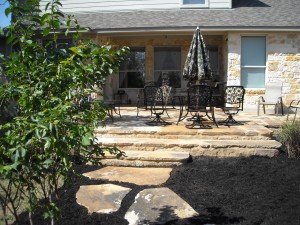 Nice backyard patio with a courtyard feel. This has surround seating, lighting and sits in the middle of a dry creek bed that helps with the drainage of the backyard. We used Oklahoma flagstone.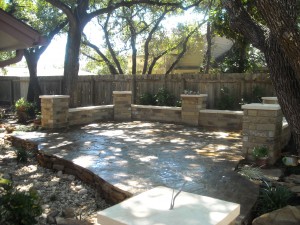 This is a great patio in the back corner of their property. It has tree wells, a large sitting area for dining and a sitting area with a firepit. Â We used two different colors of Oklahoma flagstone here to highlight the dark among the light.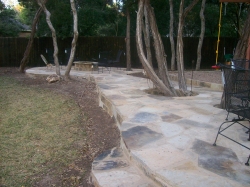 This is a great patio that has no mortar whatsoever but is grouted with mondo grass. We used large Oklahoma flagstone in a sand/dirt mix.
 
This is a great Oklahoma flagstone patio with a nice sunken firepit.
This patio sits on the edge of the green belt in northwest Austin. It is down away from the house and other landscape giving it a real cool natural look. It is complete with walking trails and surrounded by native landscaping.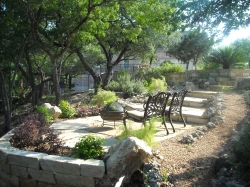 Here is a great Oklahoma flagstone patio set in decomposed granite with a grand firepit in the middle overlooking a a beautiful water feature we installed. It is surrounded by shade gardens on all three sides with the house in the back.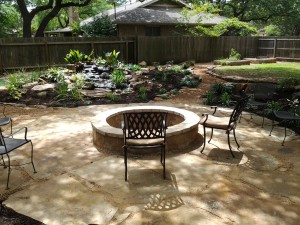 This is another flagstone patio set in decomposed granite with native Lirope installed to soften the look. It also has a a great walking path to the grill and the rest of the outdoor seating.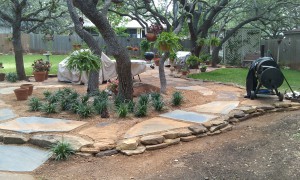 This is one of our latest patios. It is a nice simple space in the backyard right outside the back door completed with a step that surrounds the patio on all three sides.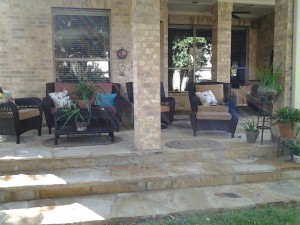 Another Oklahoma Copper Mountain flagstone patio but this is set in decomposed granite and has stone surround seating.