Natural Stonework / Bouldering
We can create lots of different looks using the native moss rock, limestone and sandstone that is found throughout the hill country. We design for small spaces and for large areas. Below are a few pictures of some of the natural stonework we like to do.
This is a small backyard in a condo residence in northwest Austin that receives very little sun. All the stones were brought in using a two-wheel dolly and were hand placed without the use of concrete. This stonework functions as a retaining wall for the slope and breaks up the monotony of the size bed located here.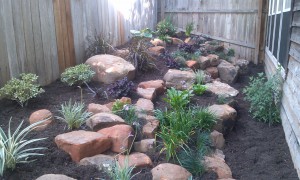 This is the next door neighbor's backyard of the same condo residence who loved what we did so much that they wanted something similar. They however wanted a stone pathway to their utilities which was a great idea.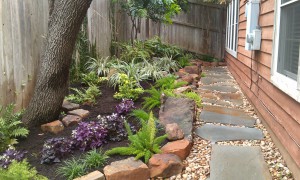 This is the neighbor a few condos over that wanted a deck replaced with natural stonework and a dog run for her little puppy. The deck was nice but there is no life and breath in a deck. Look at the difference.
Before: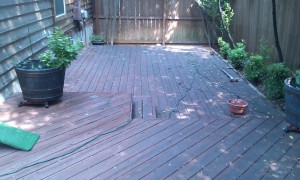 After: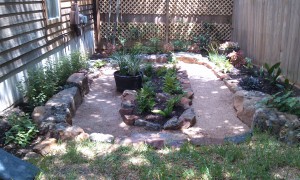 Here is a lot of natural stone work in the front yard close to the street where nothing would grow. Adding the stone and back filling with organic landscape mix and compost we now can plant anything that wants full sun and it will grow. I love the life cycle of this landscape. We did the work in the middle of the summer and we had fall blooms with Copper Canyon Daisy (that beautiful yellow.)
Fall: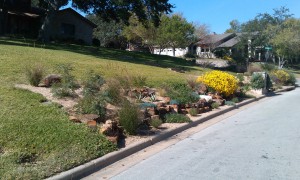 Spring: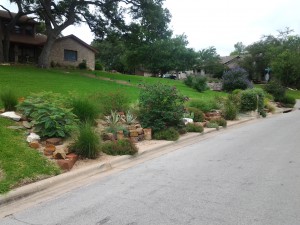 This is the way a true perennial garden is supposed to function. You should have different blooms for each season. Sometimes the winter does not yield as much but in my opinion that is okay because the plants go dormant on the surface but are still growing their roots underground.
Here are a few more pictures of this landscape: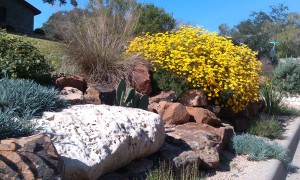 And another: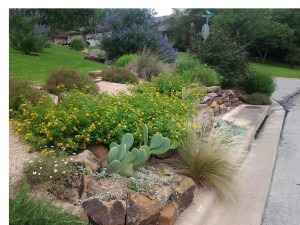 On this landscape design there is a lot of detail with the use of natural stone and native plantings including a wide variety of perennials, yuccas, cacti and succulents. One of my favorite landscapes and one of my favorite customers. This landscape is in Lost Creek, Austin and received the "Yard of the Month" after all the installation was complete.
Another use of natural stone work in our landscape design is to couple as a border while adding personality to a decomposed walking path. This style also breaks up the monotony of what could be a large bed. The kids love this path and have had many picnics using the stone as tables, pretend hideouts, and whatever else comes to their imagination. We surrounded the stonework using shade plants where there is shade and sun where there is sun.