Dry Creek Beds
These drainage systems are the most beneficial systems that we design and install. Our technique allows for maximum penetration of water into the landscape while only moving off the excess water that would normally be considered standing water and standing water is not a bad thing as long as it drains within a 24 hour period. Any thing beyond that could attract mosquitoes and other insects.
Dry creek beds can be designed alongside walkways, sitting areas or can even be the main focal point of any landscape theme.
Here is a dry creek bed that is both functional and beautiful. It has a decomposed granite/flagstone pathway from the driveway to the back gate alongside a dry creek bed that drains the additional water coming from the driveway.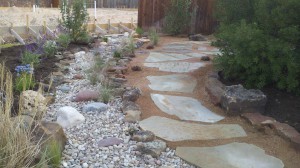 A dry creek bed that serves two neighbors that had a standing water problem with St. Augustine grass and poor grading by the builder. On the left side we converted their irrigation to a smart irrigation system using low emitter heads that you can dial up or down. On the right side he kept the St. Augustine and the over spray from the pop up irrigation system waters the plants on the right side of the creek.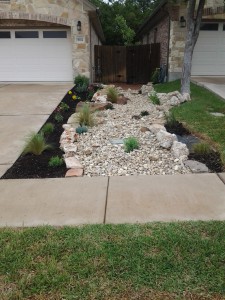 Here is the decomposed granite aspect of that dry creek bed that serves as a landing and walkway for the garbage cans giving it a washed out look that adds to the aesthetics of the creek bed.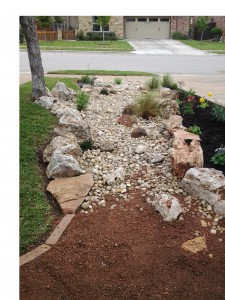 Here is one that functions as the main landscape theme to the small backyard. This is a good way to do lots of native plantings without having huge beds to maintain.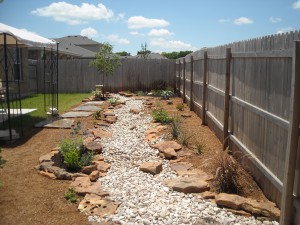 This dry creek bed functions as a barrier between the St. Augustine grass and the large butterfly garden in the corner.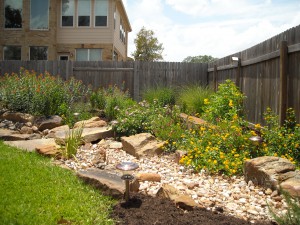 This dry creek bed functions as part of the overall landscape theme and will allow for additional water run off that all the grasses, trees and mulch cannot absorb. This backyard landscape theme was very unique in that it has a small water feature, decomposed granite/flagstone sitting area, large native beds and great natural rock borders. Not one ounce of cement or concrete was used in this backyard landscape design.