This is one of our latest water garden designs that we built in Killeen, TX a little over a year ago. As you can see it is pretty mature with surrounding plants. We just added the lilies after we cleaned the pond.
It pumps between 5000-8000 gallons an hour with a remote controlled adjustable pump. At its deepest it is just under four feet with fish tubes and caves.
This water garden also has several shelves for future water plants. With one more year of maturity this water garden is going to be full and immaculate.
It sits in the corner of his backyard just off two patios we built, one with a covered extension and one with a built in firepit. From start to finish the project took about a week and half to complete.
Check it out…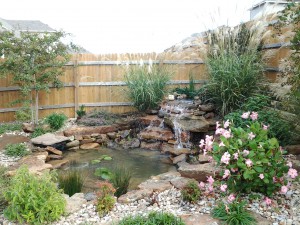 Another angle: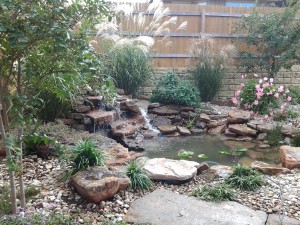 Another angle: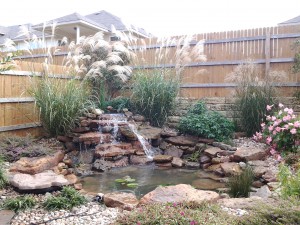 If anyone is going to spend good money on a water garden like this, low voltage LED lights are the way to go, not what you see in this picture. As a landscape designer I can only suggest so much. In the end it is up to the homeowner to what they want.