Here is a life cycle of a water garden from old to new , then a year later. Check out the transformation. We started with a pond that had a leak and was completely overgrown and non-functioning. I am not even sure how the fish lived in this.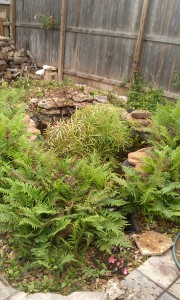 You can't even see the water right. Overgrown ferns, Umbrella Palm and who knows what else.
Day One – deconstruction begins: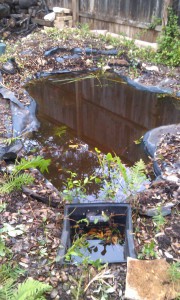 Boy that water sure looks tasty. And the smell is great.
Day Two – new pond liner goes in along with the waterfall rocks and other shelving.
Day Two – continued. The skimmer is installed along with more rocks. The shelving is almost complete so we add some plants and water.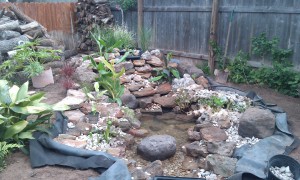 Day Three – pond liner is cut and details are made. Water will need 24 hours to settle and become clear.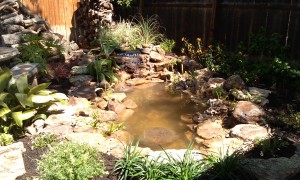 One year later…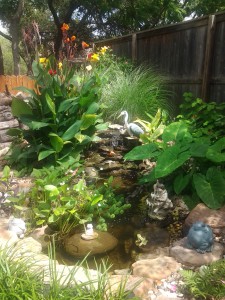 Another photo…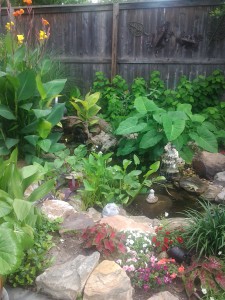 And one more…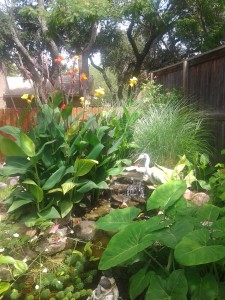 And so with a little hard work and some tender loving care along with a bit of knowledge on how to build and grow a water garden you can see that an old run down, out of work water feature that was designed to be the highlight of the backyard came to ruin then became revitalized. The Cana Lily and the Elephant Ears in this water garden went bananas. So did the native grass and some of the other water plants.
This water garden came in around five feet by eight feet (surface water area) with multiple shelves for water plants and a one and a half foot high waterfall. So when you take all that into consideration along with the surrounding landscape design you have about 225 square feet of water garden. A very nice addition to any backyard in Austin.
Our value at greeneraustin is not just a quick in-and-out installation. It is complete garden design that will grow and become something special for years to come, whether it is a small water garden like this or a grand backyard landscape design.
Remember – everything alive grows.