This is now my second entry into blogging for landscaping in central Texas. Thoughts of xeriscape design for many homeowners means zero scape. Zero scape brings up ideas of white river rock with a few cacti. That is not what a water-wise xeriscape garden is. In fact they are some of the hardiest of all garden designs and with the Texas heat and sun a xeriscape garden is the way to go.
Here is one that we did along her curbside where there was nothing but weeds and poor soil and with the grade of the yard there it became very hard to mow and maintain. We ripped out all the grass, brought in hill country moss rock and created natural looking tiers.
In this garden here is a portion of the variety of plants we used:
Non prickly pear cactcus
Vitex tree
Variegated yucca
Purple tipped cactus
Copper canyon daisy
Butterfly bush
Skullcap
Pride of Barbados
Lantana
Bi-color iris
Green cloud sage
Gulf muhly
Bluebonnet seeds
Now check out what the garden looks like in the spring (this is also a year into its maturity).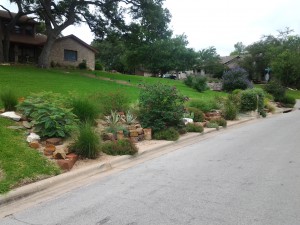 Now that same garden in the fall.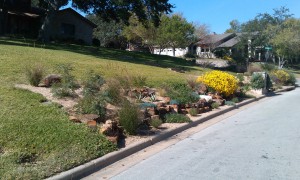 A close up…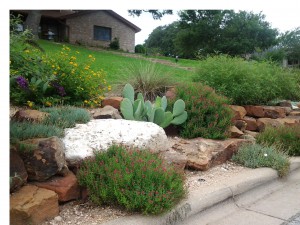 Another close up…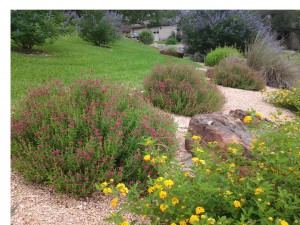 As you see there is so much detail and variety in the plants we used. It would be great if we could one day xeriscape another 50% of her front yard and remove the high maintenance St. Augustine that needs to be watered all the time.